SPLITTER HDMI 8 PORT
Special Price LKR 11500.00
Regular Price:
6 MONTH WARRANTY

Islandwide Delivery Available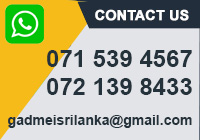 8 way HDMI splitter, distributes the input HDMI signals to 8 identical HDMI outputs.
These 8 outputs are synchronized.
Best solutions for digital entertainment center, HDTV retail and show silte, HDTV, STB, DVD, P3 and Projector factory, space and security concerns date center control, distribution, conference room presentation, school and coporate training environments.
CASCADE : LARGE DISTRIBUTION ACHIEVED BY STACING
HDCP COMPLIANT
HDMI 1080P COMPATIBLE
Package contenets
Main Unit
5V DC power supply
Operating Temperature Range - -5C TO 35C (-41 TO +95F )
OPERATING HUMIDITY RANGE - 5 TO 90% RH ( NO CONDENSATION )
VIDEO AMPLIFIER BANDWIDTH - 2.5GHZ
INPUT VIDEO SIGNAL - 0.5~1.0 VOLTS P-P
INPUT DDC SIGNAL - 5 VOLTS P-P (TTL)
MAXIMUM SINGLE LINK RANGE - 1920 * 1200 ~1080P
VIDEO FORMAT SUPPORTED
VGA : 640*480 , 800*600 , 1024*768 , 1280*1024
VIDEO FORMAT SUPPORTED
DTV/HDTV
480i, 576i,480p,576p,720p,1080i,1080p
OUTPUT VIDEO
HDMI + HDCP 1.0 / 1.1/1.2/1.2a/1.4
VERTICAL FREQUENCY RANGE
60Hz/85 Hz
POWER CONSUMPTION
5 WATTS ( MAX )
FOR SAFETY
Do not install or place this unit in a bookcase, built in cabinet, or in another confined space.Ensure the unit is well ventilated.